HOME | ABOUT US | CAR REPAIRS | BIKE REPAIRS | ACCIDENT SUPPORT | CONTACT | CIRCUS STARR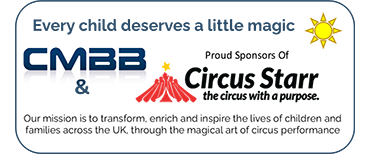 Circus Starr & CMBB helping support the local community
We believe in a world where anything is possible. We understand that attending mainstream events can be difficult for children with additional needs or families in difficult circumstances which is why we've created a tut-free zone; a show in which shouting out, dancing and jumping up and down are expected. At our circus, everyone is absolutely encouraged to let go of their worries, get involved, and be themselves.
We bring all the fun of the circus to children and families that may have found this difficult in the past. Children with disabilities, families on low incomes, those facing challenges such as domestic violence, bereavement or who may be living with a life-limiting condition. Every child, whoever they are, is free to be themselves at a Circus Starr Show – shout with joy, move to the music or appear centre stage!
We know that a circus is a family event that brings everyone closer, encourages creativity and allows people to become stronger and more able to face life's challenges head on. We tour the UK bringing the very best in circus talent from around the world and stage 148 incredible, animal-free shows every year.
To find out more about how you can support the circus with a purpose visit: www.circus-starr.org.uk
or call 01260 288690.